Über die Veranstaltung
ACHTUNG LULLABY | 27.5. | 21.00 - 03 Uhr
Wir wissen nicht, was passieren wird, wenn wir diese spezielle internationale Crew von KlangkünstlerInnen zusammenbringen:
ABER WIR MÜSSEN EUCH WARNEN. Zärtlichkeit kann die Form von Lärm haben, Zuhören ist eine Gefahr, von der wir gemeinsam träumen sollten, und es gibt nichts Besseres als das warme Bad des Klangs, der uns alle wieder zusammenbringen kann... zumindest in dieser Nacht.
Live Sets à 30 Min | ab 21 Uhr
ANA PAOLA SANTANA (Mexiko)
GINA E (Schweiz)
JAMIRA ESTRADA (Schweiz)
MIAO ZHAO (China)
GENOSIDRA (Kolumbien/Arg)
__________________________
Dance DJ Sets | ab ca 24 Uhr - 03 Uhr
GENOSIDRA
JAMIRA ESTRADA
Eintritt Fr. 20.- | ab 24 Uhr Fr. 15.-

GENOSIDRA Der kolumbianische Produzent, DJ und Klangkünstler Carlos Quebrada lebt in Buenos Aires und ist Mitglied des argentinischen Labels Hiedrah Club de Baile. Außerdem ist er Mitbegründer und Mitglied der argentinischen elektronischen Noise-Band Blanco Teta.
Genosidra erforscht in seiner Musikproduktion sowie seiner Live-Performances und DJ-Sets Noise-Musik im Kontext von Tanzmusik durch Texturen und einen nicht-linearen musikalischen Diskurs. Genosidra entwickelt eine experimentelle elektronische Ästhetik im Dialog mit Latinx-Club, Noise, Hyperpop, Footwoork und transdisziplinärer Performance, die ihn auf Festivals in ganz Lateinamerika und Europa geführt hat.
https://www.instagram.com/genosidra/
ANA PAULA SANTANA, Mexican experimental artist based in Guadalajara who works in the fields of sound art, experimental music, graphics, ceramics, video and installation. Santana uses error, repetition, disruption and accumulation as creative tools; and pays close attention to how sound affects us in physical and psychological ways. In addition to sound, she has a tendency to work with written word, and many times her projects end up being print publications. She has been beneficiary of FONCA and PECDA (Nacional and statal Young Creators grant), and she obtained the Creators of Peace recognition from the Mexican government for Resilience project. Artist-in-residence at Bemis Center for Contemporary Arts in Nebraska summer 2022. Her work has been exhibited at the Zapopan Museum of Art, Oaxaca Museum of Contemporary Art, Ex Teresa Arte Actual, Museo del Chopo, among others. She uses the pseudonym Ana Fauna for musical productions in which she sings. She is the founder and director of O.Y.E. Oficio y Experimentación, an exhibition space that promotes experimental arts in Zapopan, Jalisco.
STATEMENT

I imagine and analyze with sound and other materials anthropological phenomena. I usually create from the experimental arts, using error, repetition, disruption and accumulation as creative tools; and I pay close attention to how sound affects us in physical and psychological ways. I'm also very interested in the materials, process and details in professions; coming from a ceramist mother and a printing press father, I usually seek the points of nostalgia behind the mechanized processes. In addition to sound, I have a tendency to work with the written word, and many times my projects end up being investigations published as print editions.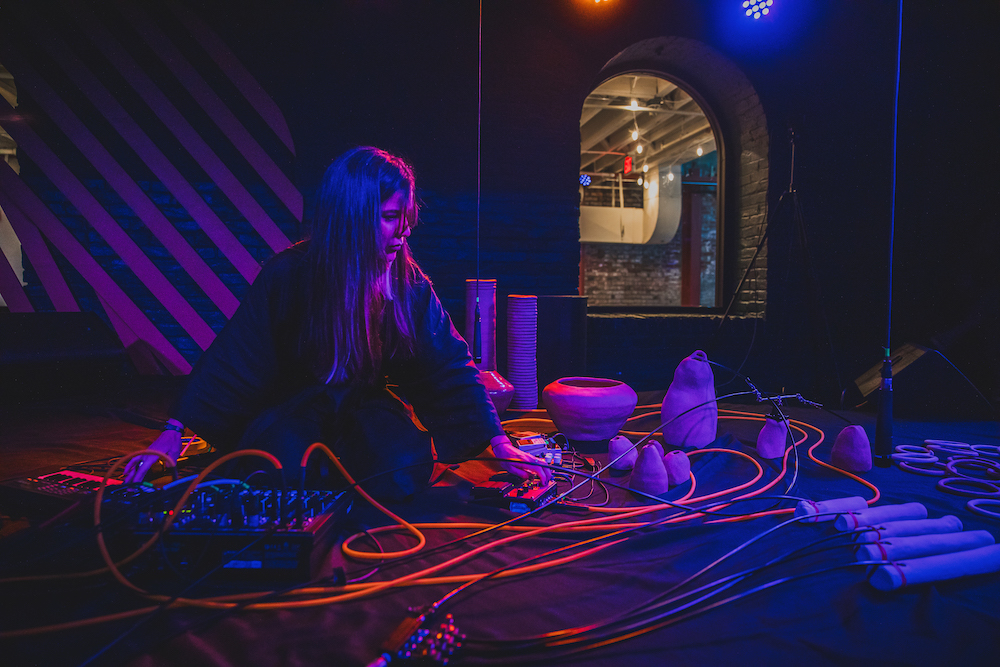 MIAO ZHAO, Clarinetist, improviser and curator Shuyue Miao Zhao was born in China in 1990 and currently lives in Zurich. She has obtained Bachelor and Master of Music degrees under the tutelage of world renowned clarinetist/musicologist Prof. Charles Neidich from the Juilliard School NYC with full scholarship. In 2015, she moved to Switzerland to further her Bass clarinet studies with Prof. Ernesto Molinari , with a focus on contemporary music, enrolling in Specialized Master Solist diplom at the Bern University of the Arts. During her studies, she worked as an assistant to Prof. Ernesto Molinari. In 2017 She was accepted to HKB / CAP soundart studies to further her passion on electronic musc. Miao is the first prize winner of the 2017 Concours Nicati and Tschumi Preis 2017, since then she has been performing in various contemporary music ensembles and festivals throughout Switzerland. Her interpretation of Brian Ferneyhough's "La Chute d'lcare" with Nouvel Ensemble Contemporain has been released on the NEOS label.
Besides her focus on interpretations of compositions, Miao grew immense amount of interests in free improvisation and its philosophy during her musical career in NYC and Switzerland. She has been active in performing as an improviser in Switzerland and abroad, forming bands such as Noijzu, mm+tt and Secrétariat among many other collaborations. During her last master studies (HKB-CAP/soundart), she expanded her musical set-up, fusing live electronics with amplified instrumental sounds (Bassclarinet/hulusi). Since then she has been experimenting with various electronic instruments (no-input mixing, sampler, fx, feedback) in addition to her Bassclarinet/ instrumental performances. Her music is released under many international labels such as Buh Records (PE), Noise Bombing (ID), Blaublau Records (ZH/CH), Nomar Records (BE/CH) Daralan Records (TR/DE/CH) and Crystalmine (ES).
Since 2020, Miao has shifted her artistic base from Bern to Zürich, establishing her presence in the Zürich cultural scene and has been invited to perform/collaborate with various groups of local musicians, such as Workoutjazz, ensemble Wirren, Czarnagora, Gamut Kollektiv, Schauspielhaus Zürich and many other renowned individuals in the Swiss experimental music/art scene. In 2020 Miao was invited to join Gamut Kollektiv as part of the artist board. Since 2018 Miao, together with Bern-based visual and sound artist Luis Sanz formed AMARUS, a concert series exploring innovative experimental music from Asia, Latin America and Switzerland. Their goal is to stimulate a collaborative debate between Swiss and international artists on issues of identity, Eurocentrism, and migration in a community that promotes plurality, collaboration, experimentation, and research.
JAMIRA ESTRADA, born 1998 in Chur, (CH) lives and works as a composer, electronic music performer and DJ in Zurich, Switzerland. While she is currently finishing her Bachelor in electroacoustic composition and classical music at the Zurich University of the Arts, Jamira works on her own projects and is collaborating with various artists with backgrounds in an array of disciplines such as fine arts, film and dance. Through a direct musical approach that is constituted by an intimate relationship with the instrument, she tries to think of composition as different modes of instrumental and collaborative praxis, exploring the possibilities of storytelling through sound. Improvisation plays a central role, but techniques such as recording, processing, multi-channel audio and acousmatic spatialization are regularly employed to generate a narrative. Her work seeks to bloom in inclusive spaces outside the traditional concert format, may this be a foggy and dark basement or a sweaty club. She has performed live at Les Urbaines Festival, Cabaret Voltaire, Art Basel, Hauser& Wirth Gallery and has acted as a DJ at over 150 electronic music events in Switzerland, Berlin, Greece and London.
https://soundcloud.com/jamiraest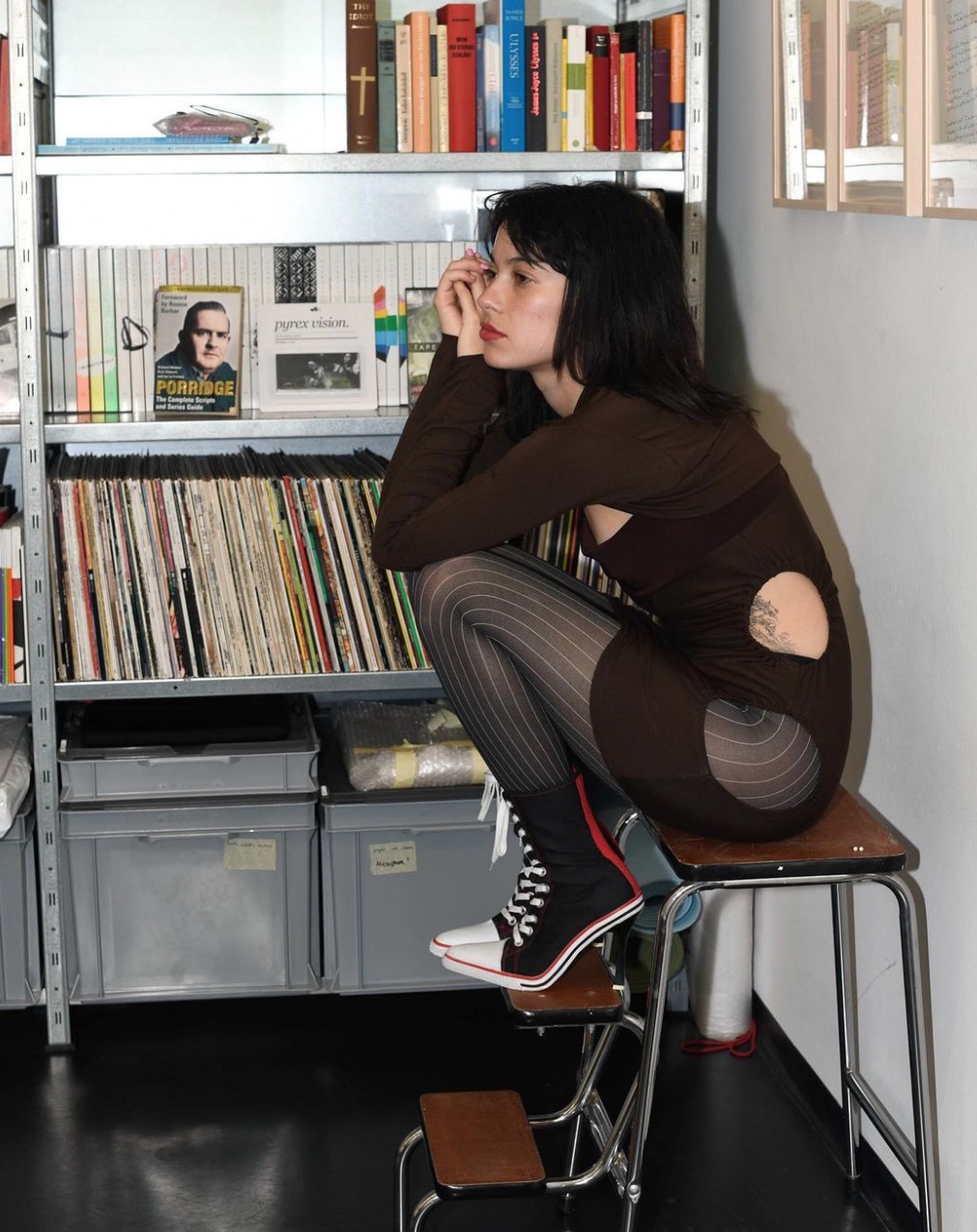 GINAE
Sin Fields - Gina Estrada
Ihre Vorliebe gilt dem Trip-Hop und verwunschenen Film-Noir-Melodien, 2013 erschien ihr Debütalbum «Picturing my Dream».
Liebe, Konflikte, Leidenschaft und Hingabe, sind Themen ihrer Songs. In autobiografischen Texten erzählt Gina Estrada ihre Geschichten und löst Stimmungen aus, die sich im eigenen Leben wiederspiegeln, authentisch und ehrlich. Dabei begleitet sie die traumartige Musik, die zwischen Ambient, Trip-Hop und Elektropop mäandriert und von satten Beats getragen wird.
Sin Fields heisst ihre neuste EP, in der sie zu einer neuen Eigenständigkeit findet. Im alternativ-elektronischen Klanggewand wirkt ihr eindringlicher Gesang in der Tiefe nach, ohne jedoch das Pop-Momentum zu vergessen.
Bandcamp: https://ginaestrada.bandcamp.com
Tickets und preise
| Tickets | Preis |
| --- | --- |
| Volles ticket | CHF 20.00 |
| Mitglieder ticket | CHF 15.00 |
| Jgdl/Studenten ticket | CHF 15.00 |